Live Video Business Tips & Tricks
Live Videos are an amazing way to connect with your consumers. While we have a technical checklist to help you best utilize CommentSold with your Live Videos, there are a few other tips that you can utilize to maximize your Live Videos.
1. Live Tab on Dashboard. This gives you the ability to send out a mass Facebook Message to every customer that has their Facebook Messages enabled. This allows you to get another notification to your customers to help them know you will be going live. You can send it instantly, or schedule up to 15 minutes out. This is a free feature when you utilize CommentSold!
2. Product List Visibility. You may not want your customers to be able to see your product list during your live sale, so they cannot purchase items before they are shown in live videos. Disabling this product list can help with engagement during your video. You can quickly disable this by going to the link above.
3. One Hour Free Shipping. On occasion you may want to give your customers a little bonus for tuning into your live video in the middle of their busy lives. If you choose, you can enable one-hour free shipping. If your customers pays their invoices within one hour of claiming an item, they will receive free shipping. Not only will it incentivize them to checkout quickly, but it'll also help reduce the number of abandoned carts. This is because it helps to maximize their desire to check out before their impulse is diminished!
4. What Do Other Owners Say? I asked in our CommentSold VIP Facebook Group (are you in that group yet?)
Some of their answers, thus far, include:
Promote your Live Video in Advance. Utilize Facebook, Instagram, Marketing Emails to inform your shoppers when you will be going live. Stick to a routine of the same days and/or times.
Put Identifiers on Hangers of Clothing. This will allow you to quickly remember which product is associated with which identifier.
Coordinate Entire Outfits. Nobody wants to watch someone run around like a lost chicken, so try to do some prep work in advance. (Well, maybe some people enjoy watching that, ya never know.)
Add those Hot New Arrivals into your CommentSold system. There is nothing worse than getting ready to showcase the next hot item and then remembering that it isn't currently in your system.
Create a Dry Erase Board or Printable Cards with Product Information. This board, or cards, will be especially beneficial to your customers. They will be able to see exactly how to comment for each product.
Make Yourself Look "Not Homeless." This is one of our favorite suggestions, because which person out there doesn't feel like there are times they look washed up from the sea? No worries, though! Even if you only have a few minutes to get ready, your shoppers will still adore you.
Steam those Products. It's so much easier to take in the beauty of the product being shown if you don't have to look beyond all of the wrinkles in the product. We all know they get seams and creases during travel to you, but it's not too hard to beautify those!
There are so many more suggestions and tips in our Facebook VIP Group, so make sure to join and indulge with information from other shop owners, like you!
We also have this blog article that is worth the read! Tips For Success With Facebook Lives!
If you incorporate these tips into your live routine, you will be selling like a pro in no time!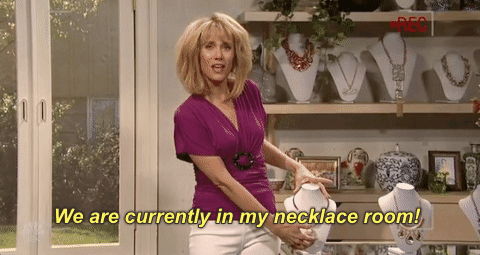 Topics: Training